Concept, strategy & branding
A strong podcast needs a strong concept, strategy, and brand image. Our team will guide you through each step of this process. We will help you create a concept that is both strategic and compelling to your audience, a podcast strategy to help grow your podcast, a brand image to help your podcast stand out and be easily recognizable.
Site design & development
A podcast website helps to solidify your brand's web presence and helps your audience better understand your podcast concept and goals. Our design and development team will help you create a website for your podcast that is both attractive and effective.
Guest scheduling
The guest scheduling process can be messy. With multiple schedules needing to match up, finding a time can be tricky. Our team will handle guest scheduling to help ensure a smooth process for you and your guests. All you have to do is find the guests.
Episode titles & descriptions
The title and description for your podcast episodes are what excite and hook potential audiences. Our writers will craft compelling episode titles and descriptions for each podcast episode.
Dedicated account manager
As a client, you will have an account manager that oversees the production of your podcast. Your account manager will act as a liaison between you and our team to help the production and marketing processes run smoothly.
Host training & support
Hosting a podcast can be a lot of work. Especially if you've never done it before. Our team will provide you with training and support that will help you become a confident podcast host.
Podcast trailer
A podcast trailer can help in marketing efforts by giving your audience a sample of what they will get from your podcast. Our team will help create a trailer for your podcast that can be used in your marketing strategy to help grow your audience.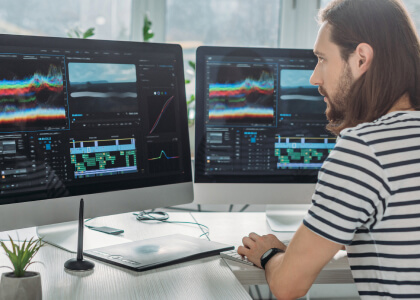 Intro & outro edit
An intro and outro will help to remind your audience the purpose and goal of your podcast. Our team will help you edit together your intro and outro complete with background music to help guide your audience through your podcast concept and goals.
Custom animated logo for intro
Our design team will help you create an animated logo that can be used in the intro for YouTube, Vimeo, and any other video platforms you choose to share your podcast video with.
Thumbnail creation for YouTube
Much like a title and description, a YouTube thumbnail can be used to create intrigue and hook potential viewers. Our design time will create YouTube thumbnails for each of your episode's videos further increasing your podcast's ability to draw potential audiences to your content.
Content management
One often overlooked sequence in production is content management. Because there are so many aspects involved in the production process, without an easy and effective content management system, things can get overwhelming. We will help manage the storage and publication of your content for you so you don't have to worry about it.
Site monitoring
Web development issues can periodically pop up unexpectedly. Our development team will monitor your podcast website and fix any issues that may arise to help ensure your website is running smoothly.
PodUp podcast recording platform
We developed a revolutionary podcasting software used to produce podcasts. We will provide you with a license to use our PodUp podcast recording platform to record all of your episodes.
Submission to all major podcast platforms
With so many different podcasting platforms available, publishing to each of them can be tricky. We will handle the submission process for each podcast platform ensuring your podcast is available on whatever platform your potential listeners use.
Audio editing
Audio is the core of a successful podcast. Your audience wants to listen to high-quality audio. There is a lot that goes into audio editing. In order to produce the audio your audience is looking for, you need to spend the necessary time needed to do so. Our audio engineers are experts at editing high-quality audio and will take care of all the aspects of audio editing.
Video editing
A next-level podcast not only needs audio, but it also requires video. Your audience expects more and our video editors can offer them exactly what they want. When recording your podcast, you will also record video that our editing team will use to produce high-quality videos for YouTube, Vimeo, and any other social media channel you'll use to share your podcast.
Podcast episode template
Our design team will help create a template to use for episode artwork. This artwork will be used to help hook potential listeners by providing them with a visual of what your episodes are about.
Summary blog posts
Blog posts are essential for SEO and they offer a different format for your audience to consume your content. Our writing team will write a blog post for each of your podcast episodes summarizing the content of each episode. This will help your podcast be easier to find online and give your audience another option to interact with it.
Full transcript
We will provide a full transcript of each podcast episode. Transcripts will be used for SEO purposes to help your episodes rank on Google and other search engines. Additionally, your transcripts can be used to further your reach by opening up the potential for those with hearing impairments to better consume your podcast.
Uploading, formatting, and scheduling for publication
Managing the intricacies of your podcast schedule and uploads can be tricky and time consuming. Because of our expertise and knowledge of how this process works, we will handle all of the uploading, formatting, and scheduling of each podcast episode.
Recording equipment recommendations & training
Because of our experience in the podcasting space, we know a thing or two about recording equipment. We will provide you with all the recommended equipment you will need to record your podcast as detailed instructions on how to set it up and use it. With our recommendations, you will be able to record high-quality audio and video for us to edit for you.
Competitive analysis
As with any business venture it is important to understand your competition. Our expert marketing team will research competitors within your podcasting niche and provide you with a detailed analysis of the competition that exists. With this information, you will be able to make strategic decisions for your podcast with peace of mind knowing those decisions are backed by data.
Keyword research
When optimizing your content for SEO, keyword research is a must. Our marketing team will do this research for you providing you with keywords to use in your podcast, blog, and promotional ads to help enhance your reach.
Podcast and blog title research
Our marketing team will also research the best keywords to use in your podcast and blog titles for SEO. This, in addition to the other keyword research will help boost your podcast's visibility and make it easier for your potential audience to find you.
Google/Bing webmaster & sitemap creation
Our team will create Google and Bing webmaster and sitemaps for your podcast's website. With webmaster and sitemap, your website's code will be able to communicate with search engines enhancing its overall SEO and will help push your website to the top of search results.
Customization of the newsletter template
Our design team will help you customize a unique newsletter template that can be used to send out monthly newsletters to your audience. Newsletters help your podcast be at the forefront of your audience's minds and increase your podcast's following.
Integration & list creation with email marketing software
Email marketing is a powerful marketing tool. But growing your email list can be hard, tedious work. Our marketing team will work with you to grow your email list and then integrate into an email marketing software.
Newsletter creation & distribution
If you don't have the time to create your own newsletter, we can do it for you. Our writing team will write your newsletter and distribute it to your email list. Saving you time so you can focus on the big picture ideas for your podcast and running your business.
SEO & technical review of your podcast website
SEO only works if you do it correctly. Our marketing team will perform monthly SEO and technical reviews of your podcast website ensuring SEO goals are met and tweaking SEO practices as necessary. Using these reviews, you as the podcast host, will be able to make more informed decisions on podcast strategy and content.
Guest outreach
While it is always better to reach out to your own network to find guests for your podcast, we will provide you 40 potential guests with their contact information to invite as guests onto your podcast. And while we can't guarantee their acceptance, we can help you make initial contact and manage potential future communication and scheduling with guests.
Podcast outreach
Our team will find and reach out to 20 podcasts requesting an invite for you to appear on their podcasts. By appearing on other podcasts, you can reach an audience that you might otherwise not have been able to reach. And while acceptance depends on the other podcast owners we can help you make initial contact and manage potential future communication and scheduling.
Guest management
Scheduling can be frustrating. It's hard to find a time that works for everyone which is why we will help you. By sending emails, follow-ups, and managing the scheduling process, we will help handle the planning and management of guests on your show and when you make guest appearances on other podcasts.
Planning and management of ad campaigns
Our marketing team has years of experience running social media and Google ad campaigns. Our team will help handle the creation and management of any ad campaigns you wish to pursue to promote your podcast. *Client is responsible for third-party ad costs.
Creation of ad images, captions, and content
In order to promote on social media channels, your podcast will need images and content. Our design and writing teams will help you create ad images and write social media captions and long-form shared content to help you promote your podcast.
Hashtag research for social media
Hashtag research is important for a successful social media marketing campaign. Our marketing team will provide in-depth hashtag research for your podcast's niche. This hashtag research will help your podcast get in front of the eyes of as many people as possible with the goal of converting them to dedicated followers.
Podcast analytics
On a monthly basis, our team will monitor your podcast's performance, download statistics, and research listener demographics. This monthly report will give you valuable insights on your podcast's performance and who's listening to it. With this data, you will be able to make informed decisions about your podcast's strategy and better cater your content to your audience's needs and wants.
Monthly meeting
Our account manager will sit down with you in a meeting on a monthly basis to discuss podcast strategy, review data, and provide you with feedback on how to leverage your audience's following and interest in you and your brand. These meetings will be beneficial in assessing your podcast's success and trajectory.
Short-form videos for social media
Craft engaging short-form videos from every podcast episode, perfect for sharing captivating highlights on your social media platforms.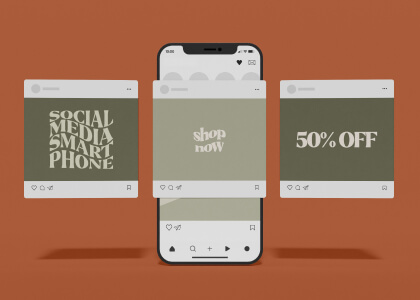 Social images
We'll create a compelling social images to help promote your podcast episode across your social platforms.
Let us help with your podcast.
Why spend the time you don't have doing the things you don't want to do? Let us help you. We are experts in the podcast production and marketing process. The tedious, time-consuming, busy work that you don't have time to do is our specialty. So leave us to do what we do best leaving you to do what you do best. We'd love to talk to you!